The Avatarify app has become quite popular recently for numerous reasons. This app allows the user to animate a still image in many different ways.
You can even add a variety of expressions on the face in the picture. There is just a slight problem with this application.
Avatarify is not yet available for Android at the time of writing this article. Android users want to use this feature as well.
For this reason, Android users are looking for an alternative app similar to Avatarify for their devices. We have found a few apps which are very similar to Avatarify and available on the Play Store.
These apps are called MugLife and Reface. They both work very similarly to Avatarify.
Reface is launched and has amassed over 50 million downloads on the Play Store with mostly positive reviews. MugLife is still in early access but looks quite promising with over 5 million downloads.
What Is Avatarify?
Before we talk about the Android alternatives for Avatarify, it is best to know about Avatarify first. Avatarify is an app which can swap faces from images and videos and allows for modifications.
The user can modify the facial expressions and create realistic animations using the Avatarify app. The app is received well by both the users and the critics alike.
You might be wondering how Avatarify does all this? The Avatarify app does this by using a neural network engine which makes inclusion of animated expressions and realistic emotions possible on the application.
Arguably, the most popular usage of Avatarify is to create deep fakes. When an image or a video is altered to create imitations, this process is known as deep fake.
There are several arguments against deep fakes and whether it can be used for notorious purposes as well. However, Avatarify is just an entertainment app and it does not promote any harmful behaviour in any possible way.
With that out of the way, there is another small problem with Avatarify. It is not even related to the application itself but the fact that it is not yet available for Android devices.
Avatarify Alternatives For Android
All hope is not lost for Android users as there are a few Avatarify alternatives available on the Play Store. They work very similar to Avatarify and provide a very similar feature list as well.
Let's take a look at some of the most popular Avatarify alternatives:-
MugLife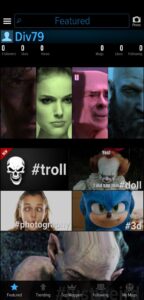 Mug Life allows the users to create animated people from still images with ease. It is a fun app which adds animation to any face without requiring you to be an expert.
This app can be used for many fun projects. You can apply your face to a meme or experiment with adding animations to different pictures.
If you want to take a group photo and add funny animations to more than one person, that is also possible using the MugLife application. This makes it a great tool for a group of friends.
The community feature is a great add-on. You can add any animation which has been created by other users for your image.
Sharing these GIFs, images and videos is also possible and just a tap away. Overall, I can say that MugLife is an awesome utility and a great alternative for Avatarify on Android.
Reface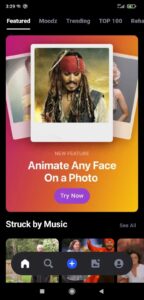 Reface is another great app with Face Swapping functionality. It adds a face on top of another face and you can then animate your image.
Due to this face swapping feature, the animations look very realistic. The facial expressions and emotions look very close to the original.
Another great feature of Reface in inclusion with Face Swap is the Gender Swap functionality. You can use Reface for doing a prank on your friends or just to try out this application.
Just like MugLife and Avatarify, Reface can be used for making funny GIFs and videos as well. These videos and GIFs can be easily shared across different social media platforms.
You can also use Reface to find out different videos and GIFs shared on its platform.
Are These Apps Free To Use?
With the long list of included features, you might wonder whether these apps are actually free or not? Yes, MugLife and Reface are both free to use.
The free version is great for users who are looking to just try out these apps. Many basic features which make these apps great are available for the free version.
A pro version also exists for both of these apps. A lot of different features are included with the pro version.
The free version is great as a starting point for a lot of users. However, if you want to support the developers or require additional features, you can give the pro version a try.
When Will Avatarify Be Available For Android?
When I heard about Avatarify, the first thing I did was to check the Play Store if it was available. I found no signs of the Avatarify app on the Play Store.
After doing a little bit of digging, I found out that Avatarify is not yet launched for Android devices. It is currently available for iOS devices.
For the time being, there are no updates on when Avatarify will be available for Android devices. However, there is good news as well.
A Coming Soon button (for Android) is currently available on the website of the Avatarify app. So, there is a strong possibility that the app will be available on the Play Store in the near future.
Conclusion
We have covered the two different alternatives of the Avatarify app for Android devices. These are MugLife and Reface.
Both these apps work very similarly to Avatarify. You can give these apps a try if you are on Android.
There is no official announcement yet about the date of launch of Avatarify on Android. But a Coming Soon page on the Avatarify website states that there is an Android launch planned soon.
You can give these alternatives a try and use any application of your choice. If you have any questions, you can drop them in the comments down below.
If you liked this post, you may also like:-
Solution For Android Apps Which Keeps Crashing
Best Android Apps For Developers