Linux Lite is a lightweight Linux distro which is perfect for users who are running older hardware. It would be the perfect operating system for you if you are accustomed with Windows and have an aging PC.
I have used Linux Lite for the past 4 years on my dual core Celeron PC. Even today, I still prefer using it for doing some lightweight tasks.
In this article, we will be taking a deep dive into Linux Lite. After going through this article, you will have an easier time deciding whether it should be your go-to choice for operating system or not.
We will also talk about everything good and everything not so good about Linux Lite.
What Is Linux Lite?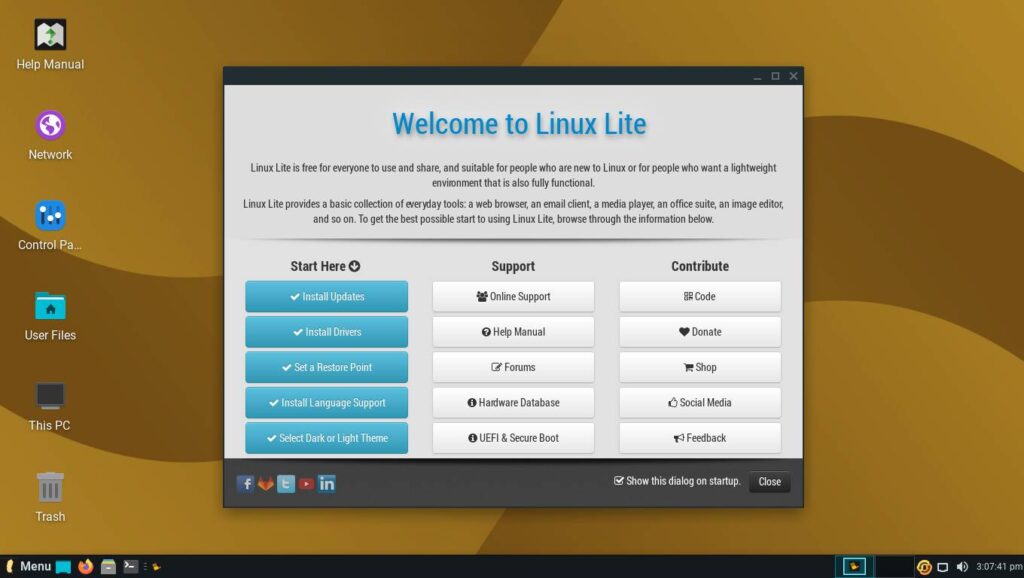 Linux Lite is a lightweight Linux distribution which is primarily based on Debian. The main purpose of Linux Lite was to make the shifting process easier for users who are looking to migrate from Windows to Linux.
The user-interface is very similar to Windows. The layout of the desktop and the start menu is almost indistinguishable from Windows 7.
In addition to this, Linux Lite includes a few essential preinstalled applications for regular users. The best part about this Linux distribution is its ability to run smoothly on lower end hardware as well.
The similarity with Windows interface also makes the switching process effortless for new Linux users.
System Requirements
There are two sets of different requirements for Linux Lite. The minimum requirements and the recommended system requirements. Let us take a look at these requirements.
Minimum Requirements
CPU – 1 GHz Processor
RAM – 768 MB RAM
Storage – 8 GB
Display – VGA screen which supports 1024*768 resolution
Ports – DVD drive or USB drive (for Installation)
Recommended Requirements
CPU – 1.5 GHz Processor
RAM – 1 GB RAM
Storage – 20 GB
Display – HDMI, DVI or VGA screen which supports 1366*768 resolution
Ports – DVD drive or USB drive (for Installation)
You will notice there's not much difference between the minimum and recommended system requirements for running Linux Lite. As the name symbolizes, this is a very lightweight Linux distribution which is easy to run on ancient hardware as well.
Features Of Linux Lite
The main reason anyone would choose one operating system over the other are the features being provided. Let us take a look into the different set of features for Linux Lite:-
User Interface
The desktop layout is clean and minimalistic. You will find the start menu to be easily accessible similar to a Windows machine. The navigation process is also quite simple. Newer Linux users will feel at ease while using the start menu to look for something on the PC.
Applications
Firefox is available for browsing the web. Checking your Emails are simplified due to the presence of Thunderbird. The availability of LibreOffice suite allows the users to open and edit Microsoft Office documents on your Linux machine. VLC Media Player is another great media player which is preinstalled with Linux Lite.
Security
A priority to security is a common trait among all the major Linux distros. Linux Lite provides a Firewall which can be configured by the user to keep your important files and documents safe. Performing weekly or monthly updates are preferred for keeping your security top notch all the time.
Support
The community is very helpful if you ever encounter a problem with your Linux distro. A manual is already pre installed with Linux Lite which is a great add-on for anyone. Most of the basics are covered in the manual which is provided. The forum is another great place to post your questions seeking answers from fellow users.
Who Should Be Using Linux Lite?
Anyone can use Linux Lite if they want to familiarize themselves with Linux first but users with low-spec machines will notice the most benefits.
The reason for me saying this is because I was using Linux Lite with my ancient PC for a little over 4 years. If you are in a similar predicament, you should definitely give it a try.
The similarities with Windows makes it an ideal choice if you have been a Windows user.
The Pros And Cons
Every coin has 2 sides and similar is the case with Linux Lite as well. Fortunately, they have fixed a major problem with their new release. They now support UEFI by default. With that out of the way, let's get into the pros and cons.
Pros
Intuitive User Interface – The user friendly UI similar to Windows is a great option for new Linux users. It makes the transition from Windows to Linux a lot smoother.
Lightweight Distro – Due to the distribution being free of bloatware, the developers have managed to make an OS which is less demanding on older hardware.
Useful Preloaded Apps – With the inclusion of useful apps such as GIMP, LibreOffice and VLC Media Player, this distro is the ideal choice for a lot of users with varied uses.
Cons
Lack Of Dedicated Code Editor – This might be me being nitpicky but I would prefer if there was an included code editor as well. Installing VS Code is always an option but a code editor is always appreciated.
Conclusion
If you are still reading to this point, you will have a pretty good idea about everything Linux Lite has to offer. It is a great option for users who are used-to Windows machines and want to try out Linux.
Through constant updates, Linux Lite has fixed most of its problems. The only complaint I had regarding the inclusion of a code editor also seems to be a little nitpicky.
Using it for 4 long years has made me appreciate everything Linux Lite has to offer. To sum it all up, it is a great OS for anyone who wants to get familiar with Linux.
If you found this article valuable, please share it with your friends. If you have any related questions, you can ask them in the comments down below.
If you liked this post, you might also like:-
How To Install Ubuntu On A Virtual Machine
How To Install Third-Party Apps On Ubuntu
Get A Simple Screen Recorder For Ubuntu