If you have recently shifted to Linux and are in search of screen recorders, you are at the right place. There are 3 most popular screen recorders for Ubuntu namely OBS Studio, Simple Screen Recorder and Kazam.
All of them get the work done just fine. The only differentiating factor being the number of features provided and the different user interface.
If you cannot decide which one is the most suitable for your purpose, we have got you covered. You will have an easier time picking one among the others after going through this article.
On a side note, all of the apps included in this article will be completely free. Without further ado, lets get straight into the interesting part.
Screen Recorders For Ubuntu
We have picked three of the best screen recorders available on Linux. The basic features remain the same among all of these. The difference arises when we are talking about more advanced features and the difficulty of the learning curve.
You should take a brief look at all of these and select the one which possesses the functionalities you require from a screen recorder.
OBS Studio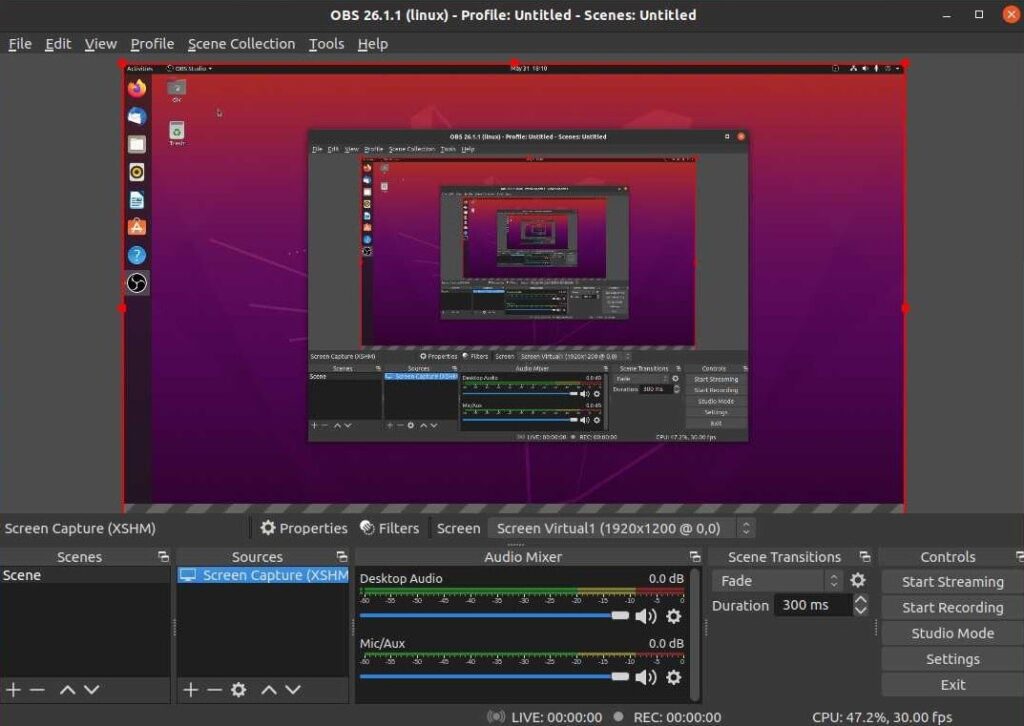 The OBS Studio is our top pick in screen recorders for Ubuntu. Most of you will have heard of OBS Studio as a streaming software. The best part is that it can also act as a screen recorder.
OBS Studio supports live streaming, recording through multiple video sources, a variety of configuration options and many more features.
After having used this screen recorder for both my Windows and Ubuntu machine, it is clear that OBS Studio is the best all round recording software in existence.
Although that is an opinion, if you have ever used OBS Studio, you would be hard pressed to not consider it the best in its category.
To install OBS, just open a terminal window and type these commands:-
sudo add-apt-repository ppa:obsproject/obs-studio
sudo apt update
sudo apt install obs-studio
Note – You might be wondering about the inclusion of the first command before installing OBS Studio. It is a repository which is necessary to be added before installing a few applications. Basically a repository is a storage location from which your Linux distro retrieves the installation/update data for an application.
Simple Screen Recorder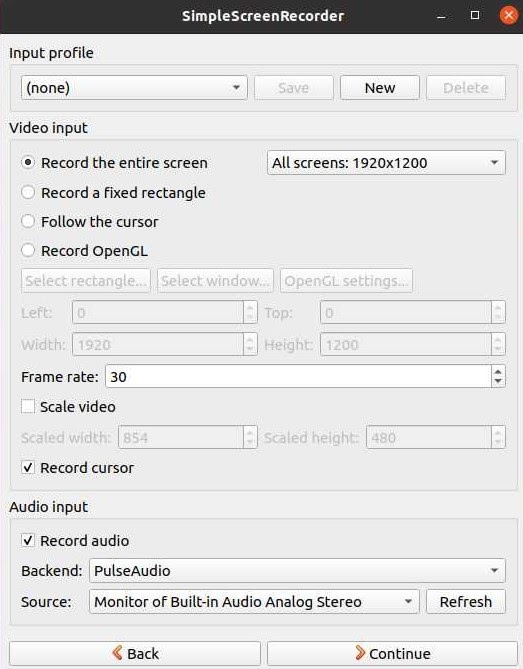 Staying true to its name, Simple Screen Recorder is a basic screen recorder for Ubuntu. When you open it for the first time, you will find it to be pretty basic which is intentional.
This application was created to do one task and it does that task very well. The only problems you will encounter is a lack of support for recording through a webcam and a pretty basic looking UI.
Simple Screen Recorder supports recording a particular section of the screen, works well on low-end hardware and also displays statistics while screen recording.
If you just want an application which gets the job done, pick Simple Screen Recorder and you wouldn't be disappointed.
For installing Simple Screen Recorder, just one terminal window and type this command:-
sudo apt install simplescreenrecorder
Kazam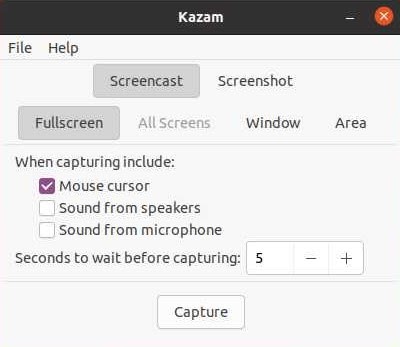 If you find the learning curve for OBS Studio to be a bit steep and Simple Screen Recorder's UI is too basic, you should give Kazam a try. Kazam is a great screen recorder which is very easy to learn.
There is also another option present for taking screenshots in Kazam. When you start screen recording, Kazam will display a timer and after the timer hits 0, the recording starts.
Like the other two options in the list, kazam also supports multiple video output formats. Recording audio from a reliable source is another great essential add-on in Kazam.
The only major problem with Kazam is the lack of support for recording through a webcam. Although, if you just want to use Kazam for capturing screens and taking screenshots, it is the ideal choice for beginners.
To install Kazm, open a new terminal window and type this command:-
sudo apt install kazam
Conclusion
We have compiled some of the best screen recorders for Ubuntu in this list. Let us know which one you would prefer in the comments down below.
If you found this article helpful, please make sure to share it with your friends. If you have any questions regarding this article, leave them down in the comments and we will try to help you work your way through them.
If you liked this post, you will also like:-
How To Install Third-Party Apps On Ubuntu