Do any of you guys remember about the phone which took the internet by storm? I am talking about the Poco F1.In fact, I actually own one of these and use it as my daily driver.
So, an idea popped into my head. It would be great if I gave a long term review of the Poco F1. So, today we are going to talk about everything right and wrong with the Poco F1.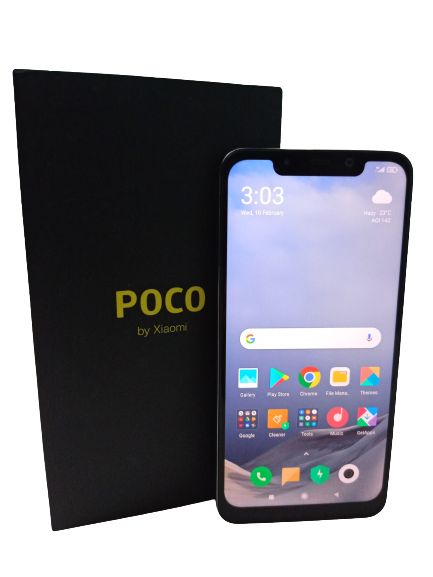 Before we start to dive into it, I want to mention that this review is based on my personal experience. This may or may not be an accurate representation of the device as a whole. Now let's get into the review of Poco F1.
Display
The first thing which everyone notices about a smartphone is it's display. Poco F1 comes packed with a 6.18 inch display. Aspect ratio is 18.7:9. Screen also comes with Corning Gorilla Glass 3 protection.
But that's everything you already know or can find easily through the Internet. Let's talk about something different. When I first bought my phone, the display looked quite brilliant. Even now, apart from a few smudges, it looks good.
At the price point it initially launched, you wouldn't expect them to fit an Amoled display. To me, the lack of Amoled display is not a big deal but some of you might feel differently.
I have also accidentally dropped this phone multiple times in this time frame of 2 years. There is not a single crack on the screen. It should also be noted that I use my phone with the case which was provided with the box.
To sum it up, Poco F1's display is quite good for it's price. I read for hours with reading mode enabled and I did not notice any significant eye strain. Watching content and playing games is a breeze with this display.
Unless you are comparing Poco F1's display with an Amoled one, you wouldn't notice much of a change. However, for me personally, the best thing I like about the display is it's durability.
Performance
This aspect was the major selling point for the Poco F1. It comes loaded with the Qualcomm Snapdragon 845 chipset. Which was the top of the line chipset from Qualcomm at it's launch.
Snapdragon 845 is an octa core processor. The four cores are clocked at 2.8GHz and the rest four are clocked at 1.8GHz. The 845 chipset comes with Adreno 630 GPU which will fulfill all your gaming needs.
Now, that's out of the way. Let's talk about how the phone performs after 2 years. My Poco F1 still performs well under heavy load. But it might have slowed down a bit. Which is quite normal for most android phones.
However, Poco F1 still runs through the most demanding games and applications with ease. I have not yet encountered any trouble switching from one app to the other. In the performance aspect, Poco F1 delivers what it advertised.
Battery
The battery which comes with Poco F1 is 4000 mAh. Which was quite good when it arrived. When it first arrived with moderate usage, the battery easily lasted for around two days.
As of today, the battery lasts for around one day at full charge. It's quite normal for lithium ion batteries as they start deteriorating as time passes.
The charger which comes included with Poco F1 is a 18 watt fast charger. It supports Quick charge 3.0. It charges from 0-100 in about 1.5-2 hours. Though, honestly I haven't exactly tested it with a stopwatch.
Camera
This part of the review is divided into two segments:
Rear camera:
Poco F1 houses two cameras at the back. The primary camera is a 12-megapixel one with f/1.9 aperture. The other acts as a 5-megapixel depth sensor with f/2.0 aperture.
From my experience, the camera works great. The pictures taken from the rear camera look crisp. There are also five different modes available for video recording. 720p/30fps, 1080p/30fps, 1080p/60fps, 4k/30fps and 4k/60fps.
When it arrived in the market, users complained about the lack of slow motion mode. However, a software update released in January, 2019 added 960 fps slow-motion mode to the device. Along with the slow-motion mode, Poco F1 also received the much awaited night mode.
Front camera:
The front camera is a 20 megapixel selfie camera with f/2.0 aperture. It also supports HDR functionality along with Bokeh effects. Videos can be recorded from the front camera in 1080p/30fps.
Poco F1 uses an IR light sensor for facial recognition. The infrared sensor allows for a quick face unlock experience. Even after all this time, I haven't encountered any significant problems with the face unlock feature.
Memory and Storage
When launched, Poco F1 came in different memory variants such as 64 and 128 GB for 6 GB Ram and 256 GB variant for 8 GB Ram.
The one which I own is the entry level device i.e 6/64 GB. I run a lot of apps at once and have no complaints with my device. In my opinion 6 GB ram is enough in a smartphone for most users out there.
My only problem was not opting for a higher storage option. As my storage was in the red within a year. However, Poco F1 also provides the option of adding a SD Card for expansion which I did.
Software
Poco F1 comes with a modified version of MIUI. Which is a hit or miss for a lot of people. Some people like using MIUI and others prefer Stock Android experience. Personally, I like MIUI especially after the new MIUI 12 update.
The best part about Poco F1 is the support from the XDA community. The huge community is continuously releasing new ROM's for Poco F1. But if you're someone who likes the stock MIUI experience, Poco F1 won't disappoint you.
Additional Features
In this section, we will review the additional features of Poco F1. Let's talk about the other features which come included with Poco F1. The IR face unlock is great. The other amazing part about the IR sensor is that you can use it to take some pretty cool photos. You have to use a third-party app for doing so but it's possible with the device.
Fingerprint sensor does the job just fine. It's quite fast. The only problem I noticed was when I used to place my finger slightly off from the sensor. Otherwise it works great. Due to the presence of face unlocking, I rarely use the fingerprint sensor for unlocking my device.
The other feature which is present in the Poco F1 is liquid cooling. I cannot comment on that as I have not played for long hours on my device. But in the limited time I played games with my phone, the temperature was reasonably good. I didn't feel the device getting extremely warm at any point.
An 18 watt fast charger was included with the device. Which was reasonably good compared to other phones in the same price range. However, compared to the phones of today, it feels a bit less impressive. But it charges the device in less than two hours which is perfectly fine for a two year old device.
Conclusion
To sum it all up, Poco F1 was a great device when it launched and is still good after two years. However, most smartphones get updates for around 2-3 years and Poco F1 has already received another major update. It's not likely that it will receive another major Android update.
I am sure I'll keep using my phone for another year. If you happen to own a Poco F1 as well, let me know in the comments. It would be great hearing about your experiences with using this device or you can drop a short review of Poco F1 yourself.
If you liked this, be sure to check out our other posts like this or this one.