Raise your hand if you are in a constant habit of using emojis on your iOS or Android devices. For the emoji lovers out there, we have got something special in store for you.
If you have ever wanted to use emojis for your Windows 10 device, we have got you covered. Today, we will teach you how to use them on your Windows 10 PC.
These are simple and straightforward methods to add your favorite emojis to a document or a text based conversation. The two methods which we will be using today are Touch Keyboard and the Emoji Panel.
Both of these are available in Windows 10. You do not need to install any additional programs to get Emojis on your PC.
Insert emojis by using touch keyboard

This is the first method which I am going to show you today. You can simply use the touch keyboard to get all the available emojis in Windows.
The touch keyboard is located at the right hand side of the taskbar. If you don't see the touch keyboard option available on your device, just follow these two simple steps:-
Right click on the taskbar
Click on Show touch keyboard button
Now, you would notice that an icon appears on the right side of the taskbar. That icon is the touch keyboard we have been talking about.
Then, open your favorite text editor of choice. With the touch keyboard open, click on the emoji icon present on the touch keyboard. With this, you are now set to use your emojis however you wish in your documents.
Insert emojis using the improved emoji panel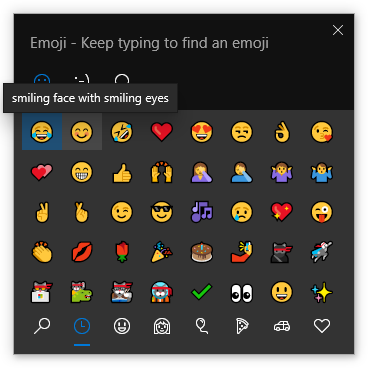 If the above method sounds a little complicated, rest assured that this method is quite easy. We will use the improved emoji panel present in Windows.
To gain access to this panel, all you have to do is simply press (Windows +.) key simultaneously. You can also access this panel by using the (Windows+;) key simultaneously as well.
And now, you can enjoy using these emojis on your PC as well. Emojis can also be searched by simply typing their names on the panel. You can also use Kaomoji and Symbols using the emoji panel.
Note: On some word processors and websites these emojis would only be in black and white. There is nothing wrong with the emoji option and they will work perfectly fine on other apps.
I noticed black and white emojis when I was typing on WordPad. However, as soon as I used them on LibreOffice Writer, they worked perfectly fine.
Conclusion
And there you have it folks. That's how you can use emojis on your Windows 10 PC. You can use any of the two methods I mentioned in this article.
If you found this post useful, share it with your friends. Be sure to add us in your bookmarks as we bring lots of content centered around tech.
If you liked reading this post, you might also want to read our other posts such as:-