Introduction
If you are familiar with the open source technology you must have come across these two terms that are ownCloud and Nextcloud. These two pieces of software are a complete suite of self-hosted cloud services.
These work a lot like Google Drive, Onedrive and Dropbox but the only difference being that you have to install them on your own server. Renting a server can be quite cheap and even free to an extent which makes services such as Nextcloud and ownCloud very popular for advanced users.
Let us start comparing these two popular open-source services and see for ourselves which one comes out on top in this discussion.
The Origin Story Of ownCloud And Nextcloud
ownCloud was founded in the year 2011 by Markus Rex, Holger Dyroff and Frank Karlitschek and its headquarters are based in Nuremberg, Germany. It might come off as a shock but the founder of Owncloud is also behind the creation of its biggest competitor i.e. Nextcloud.
It is as if this story came right out of a movie. I tried to dig deeper to find the reason behind this and came across the personal blog of Frank Karlitschek.
The reason behind Frank's departure from ownCloud is vague but it can be interpreted that there were certain internal issues regarding the management side of things which led to Frank making these decisions.
After Nextcloud came into existence, the enterprise users were offered a free migration option from ownCloud to Nextcloud. Nextcloud quickly gained traction resulting in a massive chunk of users switching over from ownCloud to Nextcloud.
ownCloud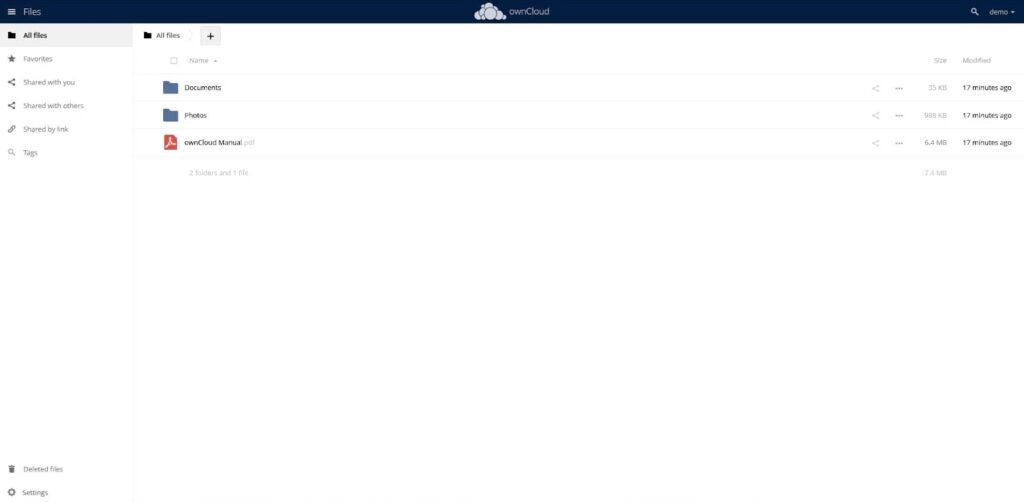 ownCloud, as the name suggests is a client and server side application suite for storing and sharing your own files and folders on your personal server. Also, the server side implementation of ownCloud is free which allows you to host and manage your own cloud service.
It is a great piece of software for hobbyists, privacy concerned users and more advanced users who like to manage everything on their own. The client for Owncloud is available for Windows, Android, iOS, macOS and Linux.
Nextcloud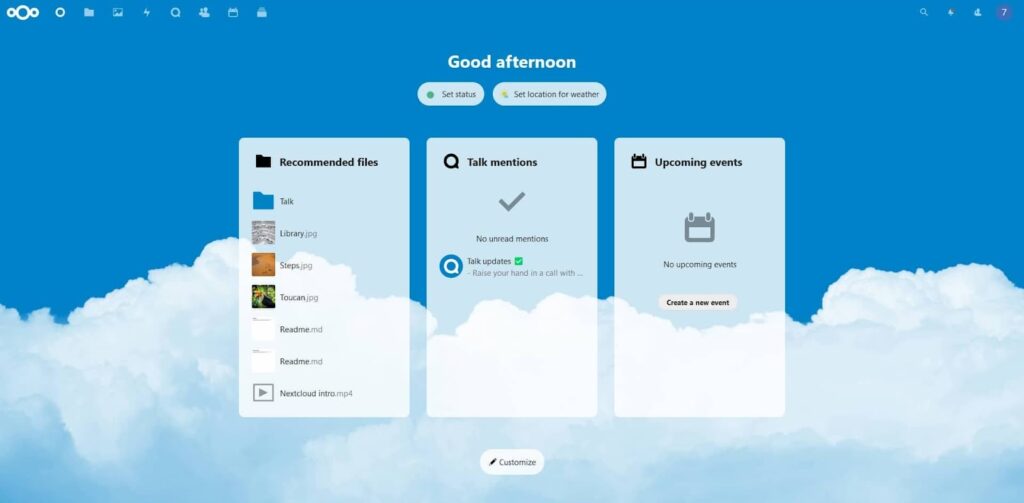 Similar to ownCloud, Nextcloud is also a self-hosted server side app suite which is used primarily for the purpose of storing and sharing your files. Users will find a lot of similarities between the two because technically Nextcloud is forked from ownCloud and the creators of both of them are the same.
What makes Nextcloud great is the sheer number of extensions which are available on their Marketplace. Some great ones which I have used and liked are Nextcloud talk and Onlyoffice.
Similarities Between ownCloud And Nextcloud
There are quite a few similarities between the two platforms. Let us take a detailed look at all of these similarities:-
Open-sourced Nature
Both ownCloud and Nextcloud are open-sourced in nature meaning that users can take a look at the code and ensure that there are no hidden backdoors or major vulnerabilities.
Even if there are certain issues, it is quick to be patched. This is the great part about open-source community i.e. any user who understands the code can suggest a fix if they found an issue which needs to be fixed.
Self-hosted
Both of these application suites can be self-hosted which is pretty self-explanatory in nature. The user can host and run their own instance of either of these two services.
You can either lease a VPS account for cheap and deploy Nextcloud or ownCloud by following their respective tutorial or you can host it for free by using the guide I wrote a while ago. For users who want more control and prefer a hands-on approach can try to host them on their Raspberry Pi or our own dedicated server.
Intuitive User Interface
What makes self-hosting oftentimes a daunting task is that the user interface can be new and hard to learn. This is not the case with both these application suites as their UI is both user-friendly and simple to learn.
You can get familiar with either of these apps if you use them for some time as the UI has been intuitive and easy to learn for beginners.
Extensions
A lot of extensions are available in both the ownCloud and Nextcloud marketplace. These extensions can be added for extending the functionality of the service.
On first sight, users might be overwhelmed by the large amount of extensions to choose from. Collabora and Onlyoffice are the few common extensions which a lot of people use on a regular basis.
I have tried Nextcloud talk which is also a good extension, you can choose any extensions based on your needs and the platform you will ultimately end up using.
Cross-platform
The client side software of both Nextcloud and ownCloud are available for the majority of devices including Windows, macOS, Linux, Android and iOS. The cross-platform support is great which ensures that users of any device can access their files directly from the server.
Collaboration Support
A great deal of emphasis is given to collaborative support for small and large teams alike. This is an aspect where both ownCloud and Nextcloud have put in more work as one of their prime motives is to ensure greater adaptability of their application suite for enterprise users.
Differences Between ownCloud And Nextcloud
If there were only similarities between the two, then this article wouldn't exist. There are a large number of differences between these two services which we will now be focusing on.
Installation
The installation of both Nextcloud and ownCloud is different. This is a no-brainer but I decided to include this as we are trying to make a perfect apples to apples comparison.
As of writing this article, Nextcloud supports PHP 8.0 meanwhile the maximum PHP version supported by ownCloud is 7.4.
Pricing
Both Nextcloud and ownCloud are free for regular users like you and me. However, there is a pricing model for enterprise users.
Some features of ownCloud are only available for enterprise users whereas you can use all of the available features of Nextcloud for free. This makes a compelling case in favor of Nextcloud.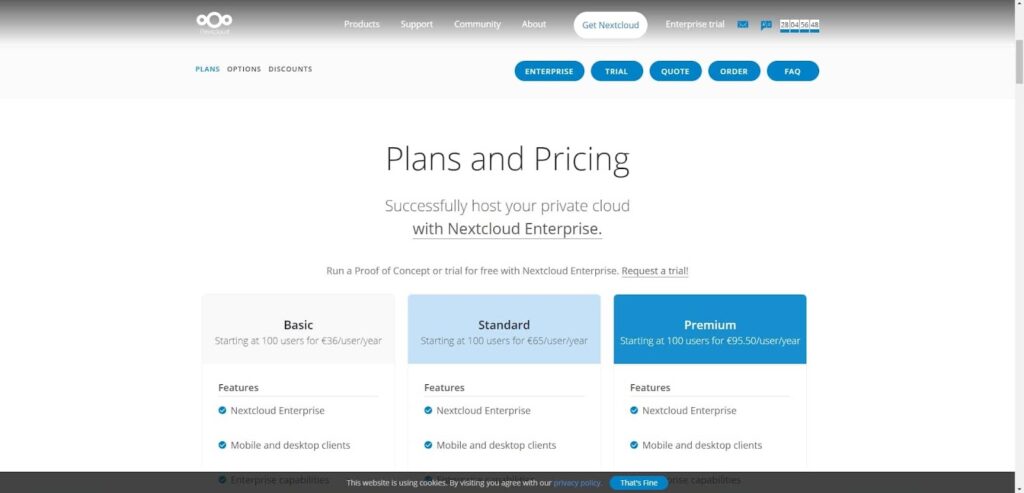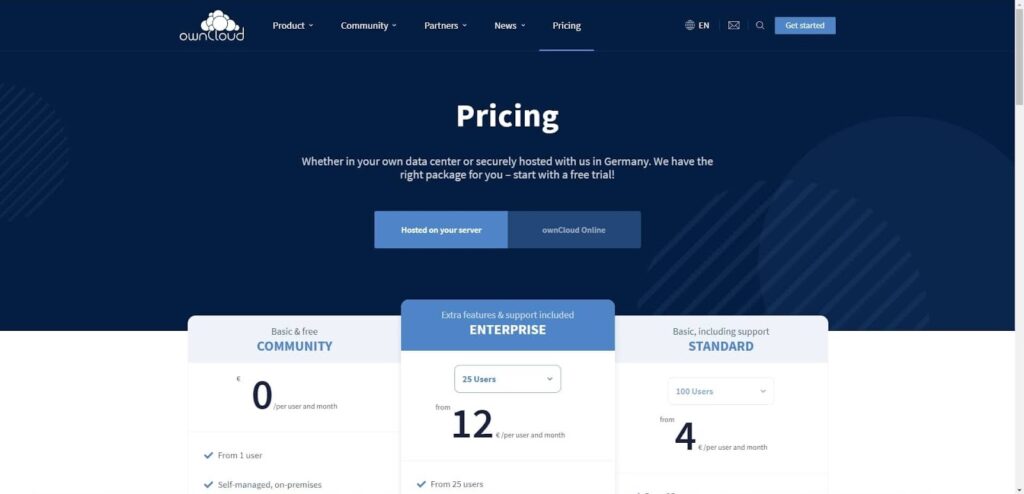 The basic plan of Nextcloud starts at 3600 euros(approx. $3950) for 100 users while the standard plan for ownCloud costs 4800 euros(approx. $5250) for 100 users.
License
The community edition of ownCloud offers AGPLv3 license while the enterprise edition offers ownCloud's own commercial license. Meanwhile Nextcloud offers AGPLv3 license for both the commercial as well as enterprise editions.
Before going further, let me explain what AGPLv3 license is to those who are interested. AGPLv3 license is very similar to GNU General Public License. GNU GPL grants the user 4 permissions i.e. to run, study, share and modify the software.
There is just one added requirement for AGPLv3 license which states that if you run a modified program on a server and others can access it, then you also need to allow them to download the source code of that modified program.
If it looks complicated to you, I agree that licenses can be complicated. However, in simpler terms AGPLv3 license can be considered as a truly open source license which can be relevant to users who are into open-source software.
Marketplace
The marketplace of both these services are completely different from their UI to the availability of extensions. There are extensions which are available on ownCloud which are not available on Nextcloud and vice versa.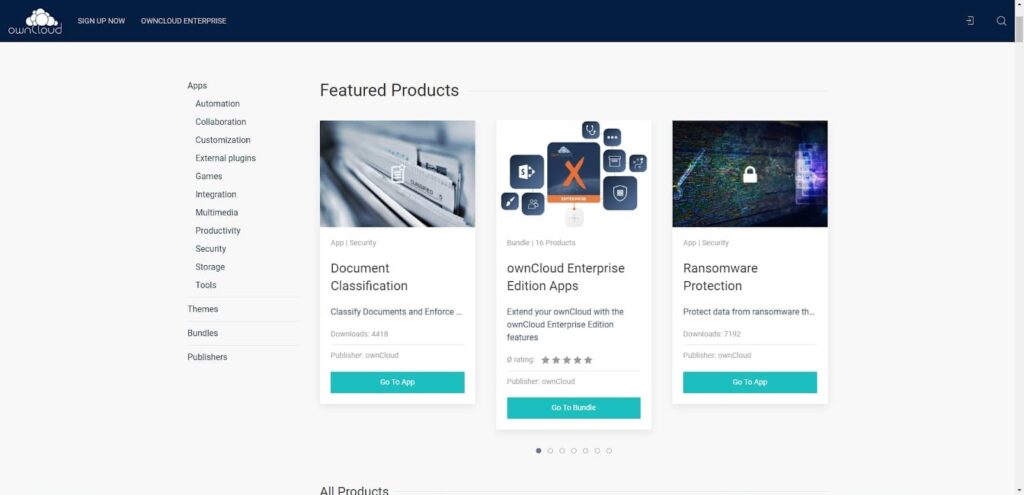 It entirely depends upon your needs and what extension you prefer. If you have used Nextcloud Talk you might consider using Nextcloud and similarly if you prefere ownCloud Tasks, you might prefer ownCloud.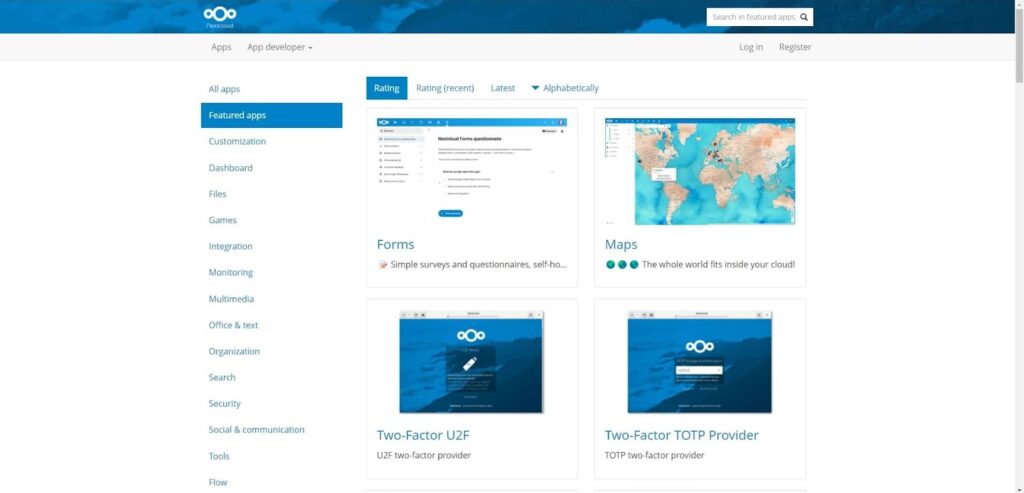 People looking for collaborative support might prefer Nextcloud over ownCloud. At the end of the day, it all comes down to preference.
Conclusion
To sum it all up, both ownCloud and Nextcloud are viable options if you are looking to self host your own suite of cloud applications. Pick anyone which fits your needs as you cannot go wrong with either of these two options.
You can also check out our other posts such as:-