Introduction
"If you have an old low-end PC, Puppy Linux is sure to breathe a new life into your machine." This was the exact phrase I heard about 3 years ago.
For context, I was on the lookout for a lightweight distro for my 1.1 GHz dual-core Celeron with 2 GB RAM. If you have ever been in my shoes, you understand how difficult it is to work with a low-spec computer.
On my quest, I came across this Linux distro which goes by the name of Puppy Linux.
What Is Puppy Linux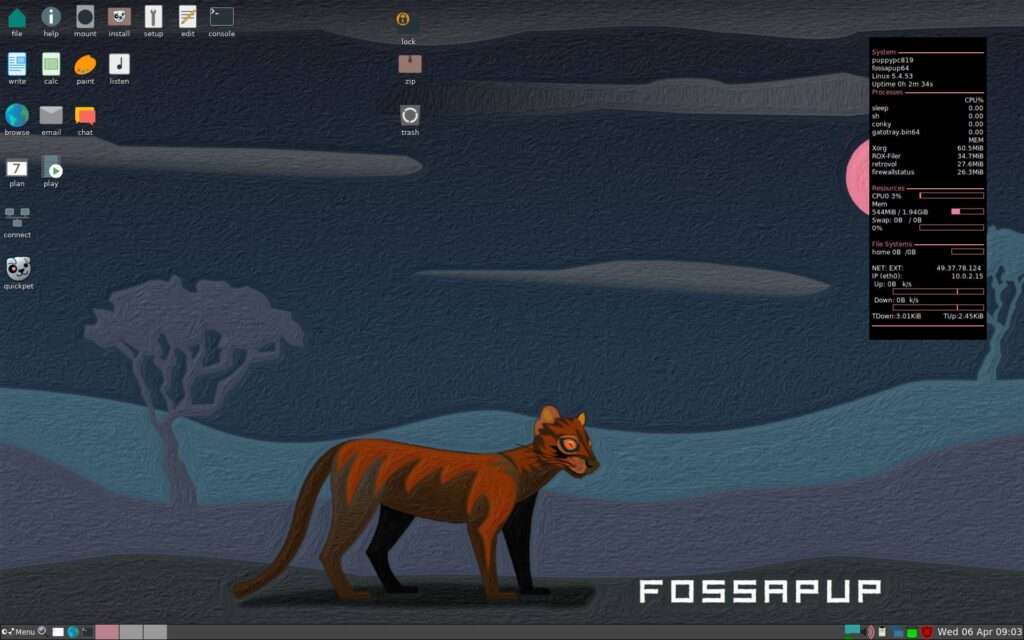 Puppy Linux is a very lightweight Linux distribution which can even run on RAM alone. It is based on multiple Linux distributions and aims to provide a basic desktop experience for older PC's.
It is probably one of the most lightweight distros in existence with a file size of around 400 MBs along with TinyCore. What makes Puppy Linux different is that it contains almost all of the common applications to perform basic tasks.
There is an Internet browser, a video player, a music player, a mini office suite along with a complimentary Paint application. This is not all, if you do not find the application you are looking for, you can install them just like with any other regular Linux distro.
Another thing which is great about Puppy Linux is that it has been in the marketplace for a long period of time, 2003 to be more specific. They also have a very thorough FAQ section which tries to answer some of the most commonly asked queries of new users.
Who Should Be Using PuppyLinux
Puppy Linux is more catered towards users with low-end PCs or someone who is concerned with privacy. As Puppy Linux can be used from RAM and if the user wants, no data will be stored upon a fresh boot.
It is very easy to give Puppy Linux a try and see for yourself whether it is for you or not. Since you can run it off an USB stick, your primary OS is left untouched.
How To Install PuppyLinux
Installing Puppy Linux is a straightforward process. You can either keep it on your USB stick and choose to save your data upon exit or you can do a full installation on your storage device.
In this tutorial, we will be discussing the steps to install Puppy Linux on your hard drive.
First, install the Puppy Linux image from the official site (We will be using fossa pup for this tutorial, other variants should also work just fine.)
Now, download Rufus. (Rufus is a utility we use to create bootable flash drives.)
Insert the USB drive and Run Rufus.
Now select the fossa pup ISO image we just downloaded.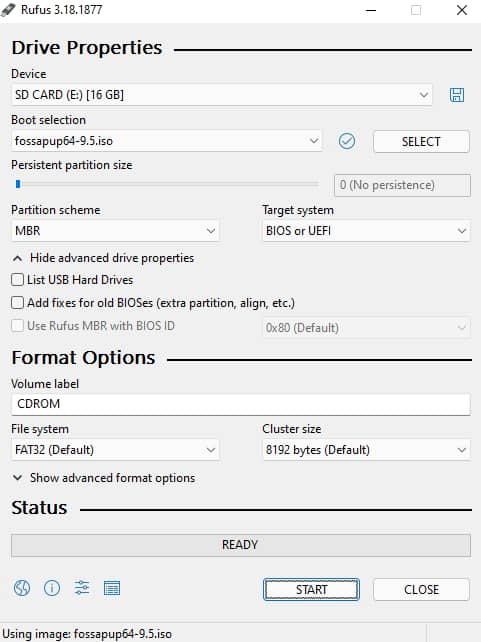 After the process is completed, eject the USB drive from your PC.
Now, reboot into the BIOS (On most PCs, long pressing F12 key immediately after PC boots up does the job) and select the USB drive to boot.
Select the first option i.e. fossa pup.
Now, you will be greeted with a setup screen.
Click on the Install icon on the Home screen.
There are 4 options (Frugalpup, BootFlash, Installer and Burn ISO to CD/DVD).
We will be selecting the third option i.e. Installer (as we are installing it on our Hard Drive). You can select any other option if you want.
Now, we will be greeted with a Gparted window. Select your Hard drive where you want to install Puppy Linux.
Now, open Gparted and create a New Partition Table on your Hard Drive/SSD (This step is important).
Allot the values you want to the different fields. Leaving them to the default is also a good choice.
After it is done, select your newly partitioned drive to install Puppy Linux on it.
A dialog box will appear which will ask you to proceed. Click on Ok.
Keep checking any other checkboxes as they appear and then Reboot.
Remove your USB drive and now your Puppy Linux is installed on your HDD/SSD.
Issues With PuppyLinux
In the past I have used Puppy Linux on my old system and it has been great. However, there are certain limitations which need to be addressed.
Dated User Interface
The first thing which you will notice after installing Puppy Linux is the simple but dated UI. Granted that they have done this for the purpose of using less resources but a slightly revamped UI would be much appreciated.
Overwhelming For Beginners
When you boot into Puppy Linux, you might find a lot of options confusing at first. This is true because a new user cannot be expected to learn the different terminologies of Linux from the start.
This can be a bit troublesome for users with low-end PC who have no choice but to use a distro like Puppy Linux for making their system at-least usable.
Complex Installation On Internal Storage
Puppy Linux is great when you want to use it off your USB drive. The problem arises when you want to install it to your system.
In this article, we did make a guide which will make the process a lot less cumbersome. Although we do realize that Puppy Linux works great just running from the RAM, some people might prefer other options and a GUI installer for that would make things a lot easier.
Problem Installing Some Packages
Puppy Linux supports a lot of packages depending on the version you have installed (in this case, its fossa pup which is based on Ubuntu 20.04 LTS). However, some packages will not work or will require a little bit of tweaking to work.
This is not a major concern because most of the basic applications are preinstalled on Puppy Linux. But if you still want to install packages which are not officially available on its own repository, it will require some workarounds.
Conclusion
Puppy Linux is arguably the best lightweight distro albeit with a few minor issues. If you can no longer run even the regular lightweight Linux distros, Puppy Linux is probably the best choice for such users.
Our issues with Puppy Linux are minor and most of you would not mind these issues if Puppy is the only distro which works for your PC. To sum it all up, give it a try and look at how your ancient PC runs perfectly fine thanks to the magic of this amazing linux distro.
If you liked this article, you may also like:-