Introduction
Recently, I was looking for a good note taking app with essential features and I kept looking for a while. Whenever I found a good app, there was some feature missing so I had to keep searching. Ultimately, I came across Joplin and finally found something which met all my needs.
Let us take a look at Joplin and then you can decide for yourself if it's something you would like to use on a regular basis.
What is Joplin?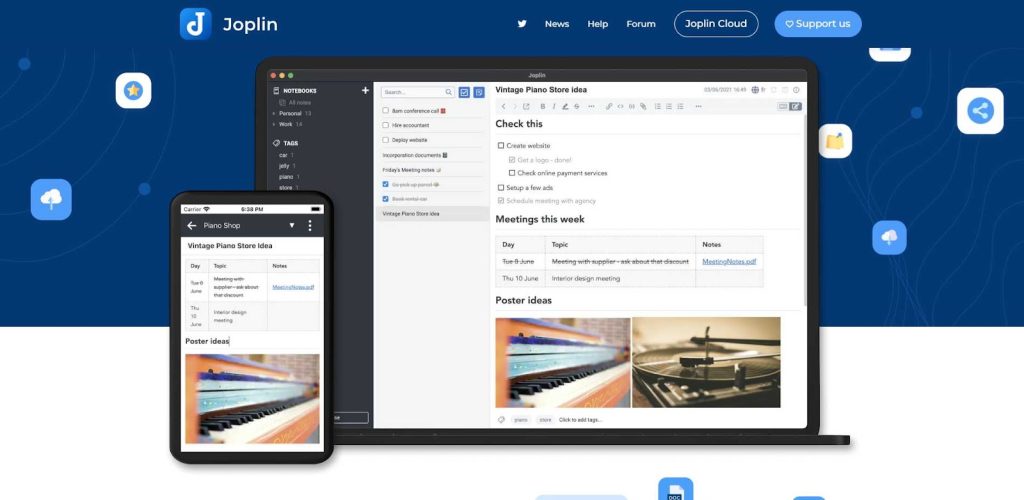 Joplin is a free and open source note taking application. It provides the user an easy way to arrange and synchronize their notes across different platforms. This is possible because Joplin is available on Windows, macOS, Linux, Android and iOS.
The user can choose to write their notes in either Markdown format or Rich Text Format. That is not all of it though. Joplin provides a myriad of features along with simplicity in design making it a viable note taking app for users.
There are a few external features which are paid such as access to their cloud services. But if you need those extra features, be sure to support them. Let us take a look at some of their most prominent features.
Features of Joplin
External editor support – This is a feature which is oftentimes missing from other similar note taking applications. In Joplin, if you do not like their default text editor, you have the option of using any editor of your choice.
Synchronization – Sync is one of the most important requirements for any user. Joplin does have their own cloud service plan which starts from 1.99 euros a month(1.49 euros a month for annual plans). However, they also allow you to sync with your preferred cloud providers.
End to end encrypted – Some of you may be wondering, if Joplin can sync using cloud services the data may be compromised. That is not true at all. You can simply choose to enable end-to-end encryption and be assured that your data is always safe.
Supports Nextcloud, Onedrive & Dropbox – Joplin supports some of the major cloud providers such as Nextcloud, Onedrive and Dropbox. Many similar note taking apps lack such features but Joplin devs have seemingly figured out what the users actually want.
Image support – While I was looking for a note taking app, the option to add images was a must have for me. Fortunately, Joplin does support adding images and they do so in a very simple manner. The user can simply use the attachment icon to add an image to their note.
Web clipper (browser extension) – There are times when you come across an article and need to save or integrate it into your notes. In those scenarios, the Web Clipper extension comes in handy. It is available on all popular browsers.
Customizations through plugins – I have tried many note taking apps before settling for Joplin. The large number of plugins available on Joplin are only second to Obsidian when it comes to quantity. However, I believe only a few plugins (if any) are needed in Joplin to get things done.
Do you have to learn Markdown to use Joplin?
The answer is NO. You can also choose to write in Rich Text Format (which is the default of many popular word processors). When you switch to RTF, a warning will appear at the bottom stating that there are a number of limitations. For most users, RTF will work just fine for general purposes.
However, Markdown is a very simple language with a few syntaxes and learning the basics will take from a few minutes to a few hours. If you want to learn more about Markdown, you can visit this website. But for starters, when you install Joplin, their basic template will cover the Markdown basics just fine.
Who should be using Joplin?
Anyone whose life or work involves frequent notes taking can use Joplin. Joplin is very useful for students, hobbyists, professionals as well as freelancers. If you are someone who is thinking of keeping notes on the go, Joplin is a good place to begin your note taking journey.
Conclusion
There are many note taking apps. Some very good ones such as Google Keep, Evernote, Onenote, Simplenote and Apple Notes are already widely used. However, Joplin is a viable alternative for similar note taking apps with extended functionalities.
The option of E2E encryption, external editor support and plugin support makes Joplin stand out from its competitors. People who care for these features should definitely give Joplin a try. If you feel like your current note taking app is working fine and there is no need for you to switch, that's fine too.
What Joplin offers is a viable and user-friendly note taking application currently in the marketplace. It does its job just fine and plugins allow you to extend Joplin functionality such as creating local backups, kanban boards and templates.
If you liked this article, you may also like:-
GNOME Extensions Installation Guide